Arizona Visit Does Nothing to Boost Trump Fortunes in Arizona
Biden Leads Among Voters Who Dislike Both Candidates
PHOENIX (May 19th, 2020)- President Donald Trump's recent visit to Arizona did little to improve his outlook in the Grand Canyon State, trailing presumptive Democratic presidential nominee Joe Biden by 7 percentage points in the latest OH Predictive Insights Arizona Public Opinion Pulse (AZPOP) poll.

Trump visited a Honeywell factory in early May. However, the president is stuck at 43 percent for the third OHPI poll in a row. Conversely, Former Vice President Biden continues to hover near the 50 percent level for the third straight poll.
The Arizona Public Opinion Pulse is a monthly statewide poll of 600 likely general election voters and was conducted from May 9th, 2020 to May 11th, 2020.
"President Trump is going to have to do a lot more than parachute into Arizona to boost his sagging numbers," said OHPI Chief of Research, Mike Noble. "With six months to go until Election Day, Trump is going to have to invest heavily in Arizona to pull out a victory in The Grand Canyon State."
Although the margin between the two candidates shrunk by two points since April's AZPOP poll of the race, the share of supporters who say they support Trump remains unchanged at 43 percent. The narrowing of the race comes from Joe Biden falling from 52 percent support in April to 50 percent in May.
Looking at the electorate in terms of economic status, Donald Trump is performing best among middle-income voters. He is statistically tied with Joe Biden among those making between $50k and $99k per year, while Biden leads by double digits among voters who make less than $50k or more than $99k.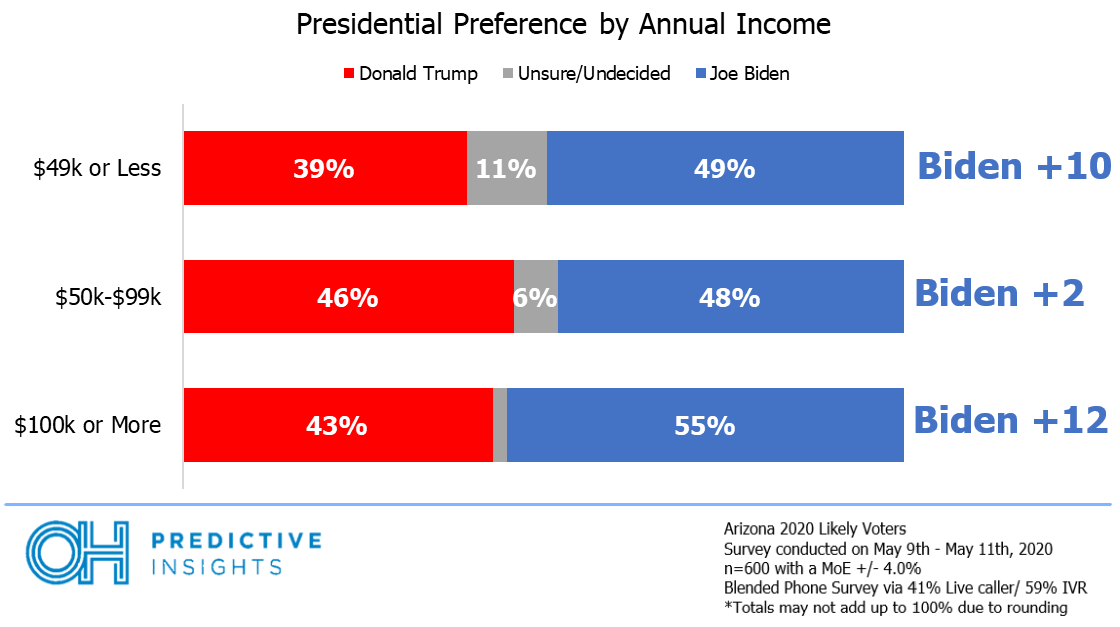 The split among white voters of different levels of educational attainment that has been seen nationally shows itself in Arizona, too. Trump finds strength in white, non-college educated voters — although there are signs his support among this group may not be as strong as it was when he won them in 2016. He is leading Joe Biden among non-college educated white voters by 6 points but trailing by 11 among whites who have a college degree.
Another key constituency who will play a role in deciding the winner of the 2020 election are the voters who have unfavorable views of both candidates. As it stands now, 44 percent of Arizona likely voters have favorable views of President Trump and 51 percent view Joe Biden favorably. On the other hand, 53 percent of voters view Trump unfavorably and 45 percent say the same of Joe Biden.
While the overall number of voters who have unfavorable views of both candidates is small (about 6 percent of the sample), the gap in their support is striking. More than six in ten (63%) of these voters say they would vote for Joe Biden, whereas only 6 percent say they would vote for Donald Trump.
"As this election heats up and negative ads from both sides pour into Arizona, the share of voters who dislike both candidates is sure to rise," says OHPI data analyst Jacob Joss, "Who they end up supporting will be a determining factor come November."
###