Issue Priority Shifting In Arizona
Immigration falls out of Top 3 for the first time
PHOENIX (May 21st, 2020)- Arizona's economic outlook is nearly top of mind among voters, according to the most recent Arizona Public Opinion Pulse (AZPOP) conducted by OH Predictive Insights.
In this era of the coronavirus pandemic, voters are increasingly more interested in the economy and jobs as state-at-home orders closed businesses and forced record unemployment. The poll found voters consider the economy the second most important issue, just behind education. The economy usually ranks fourth, behind education, immigration, and health care.
"A near-depression has a way of rearranging the priorities of Arizona voters," said Mike Noble. "No longer is immigration top of our minds. We want our leaders to focus on healing our economy after this disastrous spring."
The survey of 600 likely general election voters in Arizona found that the number of voters who said that Jobs and the Economy was the most pressing issue facing Arizona jumped almost 10 percent in one month – from 14 percent in April to 23 percent, now. May's AZPOP also found that for the first time since OHPI began asking the question, immigration is not among the top 3 most important issues to Arizona voters and is now on the verge of being in the single digits.
However, it is clear that the different parties have different concerns when it comes to Arizona's future. The party most concerned about Health Care are the Democrats, Independents are most focused on Education, and Republicans occupy the top spot for Jobs and the Economy and Immigration.
What is most telling among these numbers is the precipitous decline of voters focused on immigration. Even Republicans — more than half of whom said Immigration was the most important issue as recently as December of 2019 — have turned their attention away from the issue which is usually front-of-mind in a border state like Arizona. In the year since May 2019, concern over immigration has fallen among voters of all parties, with those voters now focused on issues relating to COVID-19, like the economy and health care.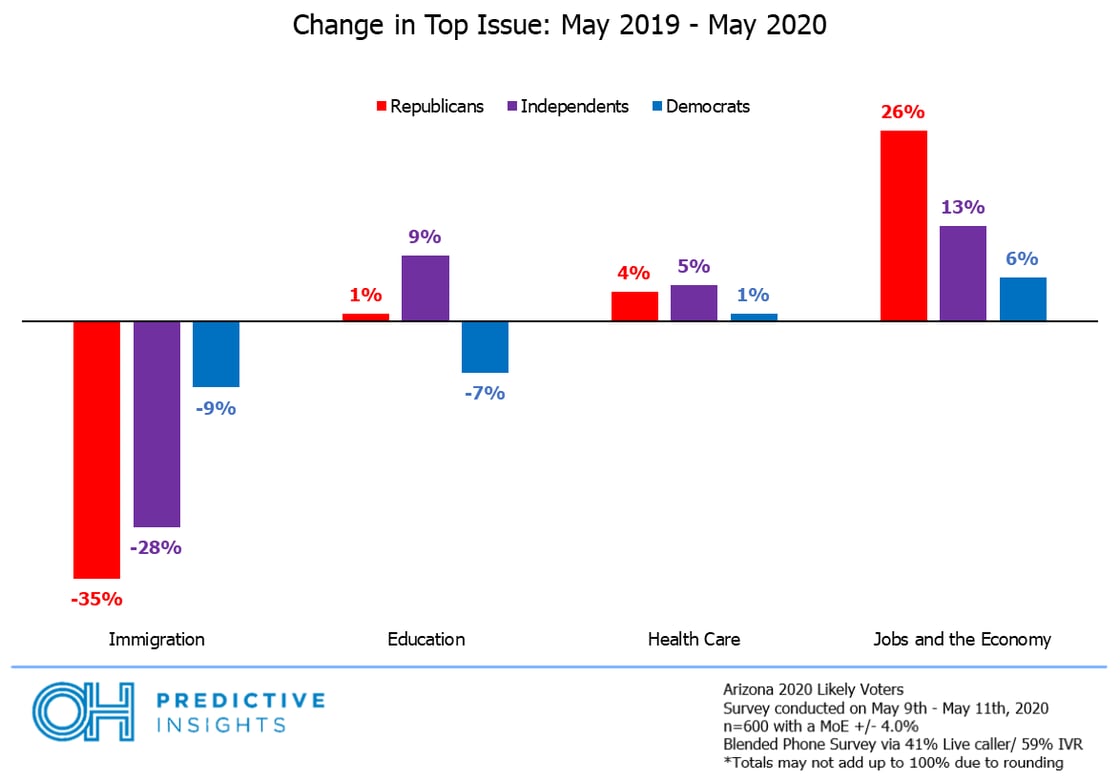 Whichever issue is most pressing to voters as Election Day draws nearer will also play a role in determining the winner. If the Coronavirus is still weighing on voters' minds and health care is the issue most voters are focused on, Joe Biden has an advantage. He is leading President Trump more than 3-to-1 among voters who say Health Care is the most pressing issue facing Arizona. On the other hand, if voters are worried about the economic recovery in the wake of COVID-19, President Trump may have an edge. He earns more than twice the support of voters most concerned with Jobs and the Economy that Joe Biden gets.
###